Slooze
Home | Description | Usage | Design | FAQ | Demo
Summary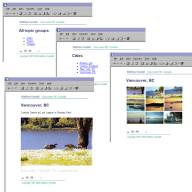 A web-based photo album for the display of photos and other pictures on web sites in an organised, catalogued, searchable manner. Slooze is simple to set up and use, yet well-structured and extensible enough to support large, complex image archives.
Data may be stored in simple text files, or in a relational database such as MySQL. Slooze is written in PHP.
Project Documents
Examples
Demonstration shows off the features of Slooze with a collection of static screenshots.
For real live examples perhaps try searching the web for Powered by Slooze
Testimonials
Congratulations on a great piece of software Nico
I was more than impressed by your documentation Night Owl
Out-of-date complex nonsense Mock Turtle
Download
Slooze is hosted at SourceForge, where you can read news, download the latest code, post messages and bug reports, and contribute your ideas.
Slooze is Open Source software, licensed under the GPL
Status
The latest release of Slooze is 0.2.7 dated 2006-07-16. Enhancements in this release include:
Minor changes to ensure better compatibility with PHP5.
Feedback
Please help to improve Slooze by contributing bug reports and suggestions at SourceForge. You can also ask questions and get help on the discussion forum. You can now post to the discussion forum anonymously, without having to first obtain a SourceForge username.
---